Nigerian, American jailed 25 years in Cambodia for drug trafficking
A Cambodian court, on Wednesday, sentenced an American man and his Nigerian accomplice to 25 years imprisonment for drug trafficking.
American Matthew David Sample, 40, and Nigerian David Vincent, 48, were arrested in Phnom Penh in February 2021 for allegedly trafficking 1.31 kg of crystal meth and nimetazepam.
According to a Chinese platform, Xinhua, the two men were charged with "drug possession, transport and trafficking" under Article 40 of the Cambodian Law on Drugs Control, said the verdict read by Phnom Penh Municipal Court's Presiding Judge Kim Sokunthea.
"Based on the seized evidence, the court has found them guilty of illicit drug possession, transport and trafficking," the verdict said.
"Therefore, the court decides to sentence each of them to 25 years in prison."
The court also ordered both of them to pay a fine of 10,000 U.S. dollars, it added.
According to the verdict, the court also sentenced another Cambodian accomplice Theam Tola, 34, to three years in jail and fined him 1,000 dollars over the same case.
During a hearing in December last year, they confessed to the crime, saying that they possessed the drugs and tried to sell them for money, as they had no jobs during the COVID-19 pandemic.
The Southeast Asian nation has no death sentence for illicit drug traffickers. Under its law, those found guilty of trafficking more than 80 grams of illicit drugs could be imprisoned for life.
According to the country's Anti-Drug Police Department, the authorities arrested 14,784 drug-related suspects in 2022, seizing a total of 14.5 tons of all kinds of illicit drugs.
Passenger gives birth on international flight
An Emirates flight from Tokyo Narita to Dubai International on January 19 touched down with an extra traveler on board, after a passenger gave birth in the air.
The new arrival made their appearance on the 12-hour overnight Flight EK 319, which landed on schedule despite the medical emergency, the airline confirmed to CNN.
The passenger and baby were assisted by Emirates cabin crew, who all receive medical response training so they can handle situations such as baby deliveries or heart attacks.
Emirates told CNN that the parent and infant "were in stable condition and, upon arrival in Dubai, were met by local medical staff. The health and safety of our crew and passengers is of paramount importance."
Births on board planes are relatively rare. Emirates' policy when it comes to pregnant travelers is similar to that of many other commercial airlines: Travelers can fly up to their seventh month of pregnancy unless they have any medical complications or concerns.
Passengers who are 29 weeks pregnant or more need to bring a medical certificate or a letter signed by their doctor or midwife, and no one is allowed to fly after the 32nd week of a multiple pregnancy or the 36th week of a single pregnancy.
Last May, a woman gave birth to a healthy baby boy in a lavatory on board a Frontier Airlines flight from Denver to Colorado, with assistance from a flight attendant. And in January 2022, a woman went into labor six hours into a flight between Accra, Ghana, and Washington Dulles International Airport. Her child was delivered safely on the floor of the cabin in the space provided by the emergency exits.
There can be silver linings to this medical emergency no parent plans for. In 2016, a baby boy was awarded a lifetime of free flights on Buraq Air after his mother gave birth while on board the airline. (CNN)
Gunman goes wild, kills 7 in another US mass shooting
The latest attacks occurred at two separate locations in the coastal city of Half Moon Bay, about 30 miles (50 km) south of San Francisco.
The attacker was identified as 67-year-old Zhao Chunli, a local resident.
It comes as the state mourns the deaths in majority-Asian Monterey Park during celebrations for the Lunar New Year.
The suspect on Monday was filmed by news cameras turning himself in to the San Mateo County Sheriff's Office about two hours after the attack.
The first four victims were discovered at a mushroom farm around 14:22 local time (00:22GMT), while the other three were later found at a nearby trucking business.
Investigators have not yet provided a motive for this attack.
San Mateo County Sheriff Christina Corpus said at a news conference that the suspect was arrested after driving himself to a local police station around 16:40.
He was found with a semi-automatic pistol that may have been used in the attack, and is currently "co-operating" with police, she added.
Mrs Corpus added that an eighth victim is being treated in hospital and is in critical condition.
"This kind of shooting is horrific," she said. "It's a tragedy we hear about far too often, but today it's hit home here in San Mateo County."
In a news conference, the sheriff also confirmed that witnesses include children who had recently been let out of school and lived on the rural property.
"For children to witness this is unspeakable," she said.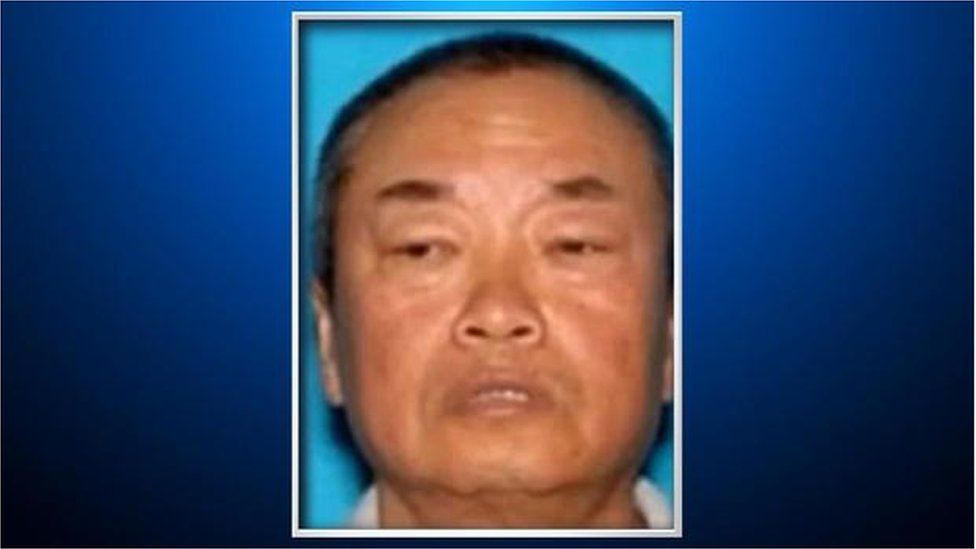 California Governor Gavin Newsom tweeted that he was "at the hospital meeting with victims of a mass shooting when I get pulled away to be briefed about another shooting.
"This time in Half Moon Bay. Tragedy upon tragedy."
Half Moon Bay Council member Debbie Ruddock told NBC that the victims were Chinese farmworkers.
San Mateo County Board of Supervisors President Dave Pine told the Associated Press news agency that the attacks were committed by a "disgruntled worker".
"We are sickened by today's tragedy in Half Moon Bay," Mr Pine said in a statement.
"The scourge of gun violence has sadly hit home. We have not even had time to grieve for those lost in the terrible shooting in Monterey Park. Gun violence must stop." (BBC)
Bloodbath as gunman opens fire in USA, kills 9, injures others
Nine people were killed and others hurt when a gunman opened fire in Monterey Park on Saturday night, according to a law enforcement sources and witnesses.
The shooting occurred at a dance studio on Garvey Avenue sometime after 10 p.m., according to several witnesses.
Seung Won Choi, who owns a seafood barbecue restaurant on Garvey Avenue across from where the shooting happened, said three people rushed into his restaurant and told him to lock the door.
They said there was a man with a semiautomatic gun in the area. The shooter, they said, had multiple rounds of ammunition on him, so that once his ammunition ran out he reloaded, Choi said.
Wong Wei, who lives nearby, said his friend had gone to the dance club that night with a few of her friends. His friend was in the bathroom when the shooting started.
When she came out, he said, she saw a gunman and three bodies — two women and one person who he said was the boss of the club, Wei said. He said his friend escaped to his home around 11 p.m.
The shooter was carrying a long gun and appeared to fire indiscriminately, his friends told him.
"They don't know why, so they run," he said.
The shooting occurred near the site of a Chinese Lunar New Year celebration. Tens of thousands had gathered Saturday for the start of a two-day festival, one of the largest Lunar New Year events in the region.
Earlier in the day, crowds were enjoying skewers and shopping for Chinese food and jewelry. Saturday's New Year festival hours were scheduled from 10 a.m. to 9 p.m.
John, 27, who declined to give his last name, lives near the shooting site. He got home around 10 p.m. and heard about 4 or 5 gunshots, he said. Then he heard police cruisers "smashing" down the street. He went downstairs at around 11:20 p.m. to see if the shooting occurred at the New Year festival.
"My first concern was I know they're having a Lunar New Year celebration," he said. But he said he saw that the festival had already been cleaned up for the day when he arrived. He went to the scene of the shooting and saw one person being put on a stretcher. Another person had a bandage on their arm.
Video on social media showed police and fire units swarming an area on Garvey Avenue and treating victims.
Injured people were taken to multiple hospitals in the area.
It was unclear if a suspect was in custody.
The violence left many in the area stunned.